Jess Smee and Ducks in a Row provide financial education for New Zealanders from all walks of life, with services covering KiwiSaver, risk insurances, and wills. Jess' father Kevin started the business thirty years ago, branching out after a few years from an insurance firm to grow a client base over the following decades.
"We have quite a broad mission which Kevin did about 30 years ago and that is … for every New Zealander to have insurance that delivers at their time of need"
Three years ago, after finding themselves at career crossroads, both Jess and her brother Luke were convinced to join Ducks in a Row, transforming it into a family business. With a cross-generational team, they are able to reach a broader spectrum of clients and meet a vast array of needs.
"Kevin [relates to] the mum-and-dad-aged market, and so we're able to come through and reach out and engage with younger audiences as well who should be starting to think about this. So it's taking the business in a different direction than if Dad was just doing it on his own and making it more sustainable in the long term."
This case study takes a look at the problems Jess and her company were having prior to using Trail, and what benefits they have encountered since letting us in on their journey.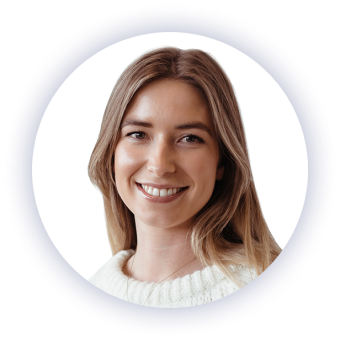 Jess Smee, Ducks In A Row
"You can do everything without having to go anywhere else"

The problem
Too many systems making things inefficient
Ducks in a Row were using CRM (customer relationship management) tools, but they just weren't cutting it for them. Most of the time the work was being done manually, and these systems designed to do the work for them were simply being used as storage space.
"Our CRM system was being used as an online filing cabinet… We were having to go through multiple different places to do what we need to do."
Jess found that they were using too many CRM tools, and despite them all being designed to run efficiently, the fact was that the sheer amount of crossovers meant that they were wasting valuable time. Rather than working for her, these tools were all working against her.
"I was exploring maybe using a separate software again for a dashboard-type tool… so if I did that we would have had maybe four or five different platforms that we were using and it gets quite hard to keep across all those different things."
Because their CRM tools weren't working for the business in the way she had hoped, Jess found that her organisation was doing a lot of work manually, which negated any benefits that the tools provided.
"We had a whiteboard on my desk and it was basically our pipeline, but when you think about the manual process involved [compared to] when you can just drag and drop in Trail... We just couldn't do that in our old CRM system."

The Solution
Jess rolls all of her systems into one integrated platform
When she looked to Trail to help them with her journey, Jess was able to get her hands on a one-stop shop for all her CRM needs, something her company had been in need of for a long time. Trail took their mottled and sporadic CRM systems and gave them a complete overhaul, giving Jess the tools she and her team needed to run the business more efficiently.
"You can do everything without having to go anywhere else"
Simple features such as email integration and automated email scheduling were just the tools needed to help simplify the way the business was run - not just in those areas, but in other areas where time could now be spent.
"Speeding that up will then mean like a massive chunk of time that we can spend elsewhere working on the business"

The Result
By using Trail, time can be spent in other areas of the business
Since moving to Trail, Jess has noticed a wide range of benefits throughout all levels of her business. By shifting all of her CRM needs to Trail, it has opened the door to a range of improvements to the way that Ducks in a Row operates.
Here are the four top benefits that Jess and her team have experienced from moving to Trail:
More fruitful interactions with clients
With anniversary emails being sent out to clients automatically, the five hours a week spent typing these up could be spent actually talking to the clients instead, creating more meaningful interactions that were beneficial for both Jess and her clients.
"Being able to send out ... a link to your client to see what's changed in their life for a review is really helpful for us instead of just having to call up and spend half an hour asking the same questions when they can do it in their own time in two minutes."
Using Trail to automate things didn't just make it easier for her clients. It also provided new opportunities for further client interactions could be followed up on, meaning that Jess and her team were able to help their clients with more than what they originally came to them for.
"One thing I found quite helpful is the opportunities - so you can add multiple opportunities to a client. Quite often you'll be doing a number of different things with one client. You might be helping them with their mortgage as well so it's good to have all of that documented rather than just lumping it altogether which we would do with [her old CRM system]."
Helping to follow the rules
In the financial advice industry, compliance is key. New Zealand's laws ensure that consumers are provided with clear and accurate information from financial advisers - this puts the onus on people like Jess to make sure their clients get all the information they are supposed to have, when they are supposed to have it.
"If you're meeting a new client for the first time, sending out an automated disclosure statement email… especially coming into this new regime it will be a lot more helpful making sure that every time we're doing the same compliant process."
When you're meeting up with a regular client it can be easy to skip some simple questions when you think you can predict their answer. With Trail's automated email functionality, Jess knows that all her clients are giving her the information she needs to stay compliant with New Zealand's financial industry's regulations.
"If you get a review client and you think 'Oh I won't need to do the full process, because I might have already done half of it when I saw them two years ago,' so you adapt it for different clients, but it should be the same every time. So having something like Trail in place will just remind you of the steps you have to take every time."
A CRM tool made to work for them
Jess found that with her old CRM tool, any feedback she had was often forgotten about, leaving her to work around the tool rather than vice versa. With Trail it is the opposite - we work with you to make sure you have the best system for your business needs.
"I don't know any of the people at [her old CRM provider] so if I said 'hey this is my feedback,' I know that it wouldn't go anywhere, whereas because Trail are small and agile they're able to make changes depending on what their customers actually want."
With Trail, Jess was able to find a CRM program that worked for her and her business needs, rather than one that simply provided a one-size-fits-all product - an approach that can never work if you ever want to keep up with your clients' demands and needs.
One centralised tool to run the business more efficiently
Ducks in a Row were operating off many different systems to meet their CRM requirements, and they were succeeding in spite of it, not because of it. In switching to Trail, the way they run their business was turned on its head, with everything being accessible from the one place. Being still somewhat new to Trail, Jess hasn't had the joy of doing every single process through Trail, but she can already envision the advantages.
"Instead of wasting hours moving between different software we can just spend it all in one place, and a lot of it's automated so we're saving time on doing that too, so once we're doing our reviews through Trail that will save us another five hours [per week] which we can then use working on other client communication."
Emails are now all able to be accessed from one portal - this means that the left hand always knows what the right hand is doing. When your mission is to provide New Zealand with the best possible advice you can, you need to be sure that you are across every interaction your clients have had with your organisation, regardless of which individual staff member they spoke with.
"The email integration has been pretty good … We've got three licences but [the ability] for our admin support to be able to sync her emails up without a having a licence is quite good. We've also got our generic hello@ducksinarow.nz email address which I've been able to integrate that as well …. If a client emails me through that one it goes direct to their timeline."
Trail allows for different email addresses to be accessed from the one location, meaning that an important update from a client does not go unchecked because you forgot to check a certain email address or because a staff member is on leave.
Are you ready to run your business with the most effective tools?
"Our more specific mission is to meet with New Zealand families and businesses that may not have the right risk protection plans in place and find a solution that is going to work best for their needs."
Despite being with Trail for only a matter of months, Jess and her team at Ducks in a Row are already seeing fantastic improvements to the way they run their business. By making processes more efficient, Jess is able to spend more time on other, often-neglected areas of her business.
"Even minutes per email - it all adds up."
No matter who you are, we know that your time is important, and that you need to make sure that your time is used wisely. Trail gives you the ability to run your business from one program, meaning you can spend less time trying to remember where everything is kept, and more time focussing on your most important asset - your customers.
Our mission is to make your life easier and empower your advice business to run more efficiently. So don't leave it another minute, book your free demo now and try our risk-free, 60-day trial today!